Workplace Environment
We work in a workplace that is very quiet – only gentle, soothing music is playing in the background. Most of our communication with our clients is carried out via emails since there are many points that we need to keep in our record to ensure we work exactly as our clients' requests. We also value diversity and personal needs of our employees. Some finish work at 6 pm and go straight back home and others work late to have their assignments done to create better works. Each and every employee takes responsibility on their own, and the results are duly recognized and rewarded accordingly.
TECS's works require lots of thinking. We strive to create a workplace where each member can fully focus so that we can create the best outcomes.
You may have the impression that peer communication may not be sufficient. But we do get together seasonally outside the office seasonally so that we can get to know each other. Yes, we do love having fun! Not only do we go to restaurants, but we, as a group of creators, take these chances to polish our senses by visiting museums, experiencing traditional crafts, and sometimes going overseas. Don't worry, you don't have to pay a penny – everything is on our company. Your job is to absorb what you experience and grow as a professional creator.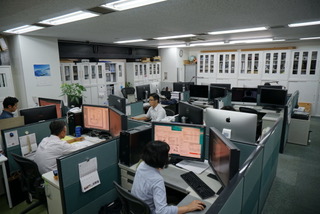 A workplace where everyone can focus