Green Project
TECS Environmental Conservation Activities
Today, humanity is facing both major environmental issues such as dwindling resources of fossil fuels, global warming, acid rain, and depletion of the ozone layer, as well as local level problems such as shortage of waste disposal facilities, air pollution, noise pollution, and pollution by dioxins and endocrine disrupters.
TECS practices environmental conservation activities by using an environmental management system to control operations spanning from material purchasing to product delivery. We encourage recycling and reuse of resources, as well as the conservation of energy and reduction of waste, with the firm belief that by "thinking globally and acting locally", we can reduce the environmental impact on the earth.
TECS Environmental Policy
Participation in the SONY Green Partner System
Green Purchasing
Promoting Environment-friendly Printing
Separation and Collection of Waste and Recycling
1. TECS Environmental Policy
The TECS environmental management system is part of our overall management system. All of our employees are committed to continually improving the company's environmental performance under the following environmental policy.
TECS Environmental Policy [Basic Philosophy]
TECS Corporation works towards harmony with the environment and community through its basic philosophy. TECS also places top priority on its environmental conservation activities and publicly announces the following environmental policy:
TECS shall take appropriate measures to reduce the environmental impact of its activities, products, or services by saving resources, saving energy, and reducing waste through technical and economic measures. We shall continue to improve the quality of our environmental conservation activities to reduce environmental impact.
TECS shall observe environment-related laws, regulations, and industry standards, and comply with our in-house standards and work procedures in accordance with our environmental policy. We have established an environmental management system and shall continually improve it.
In the event of an accident or emergency, TECS shall place top priority on preventing environmental pollution and will enforce controls to prevent damage to the local community. We assure that the products (printed materials containing part numbers) delivered to Sony Corporation and its affiliated companies and also the printed products to be delivered to other clients will not include environmentally-hazardous banned substances and substances which should be eliminated, as regulated by Sony Technical Standard SS-00259 and laws.
All employees shall actively conduct environmental conservation activities under the environmental policy. We will review the environmental objectives and targets periodically and revise them as required.
The company shall give environmental training to all employees on the basic philosophy of the TECS environmental management system, and shall ensure they comply with the environmental policy. We shall continue to provide employee training to enhance their awareness of environmental protection.
The TECS environmental policy shall be posted in offices and workplaces to make it known to all employees. Details are posted under "TECS Green Project: Environmental Policy and Main Environmental Conservation Activities" on the web site of TECS.
2. Participation in the SONY Green Partner System
All our activities comply with the Sony Green Partner Standard, which is designed to encourage Sony's business partners to protect the global environment. This standard is based on the Sony Green Procurement Standard, which specifies that environmental considerations shall be made in the purchasing done by Sony Corporation and its group companies. We disclose our environmental activities by publishing an environmental report and by other means.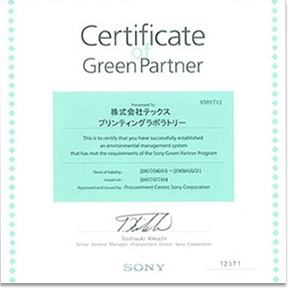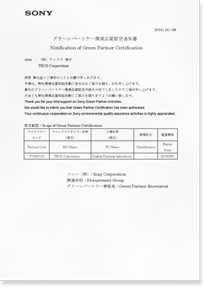 Certification as a Sony Green Partner
3. Green Purchasing
TECS follows the TECS Green Purchasing Guide. This guide specifies standards for use when selecting products or services for purchase by putting priority on those items that have less environmental impact rather than on price, quality, usability, and cosmetic design. TECS has been purchasing materials according to this guide since October 2001.
4. Promoting Environment-friendly Printing
TECS has been reducing the environmental impact of our printing service, which is one of our major activities, as follows.
We provide on-demand printing service by which we deliver only necessary number of copies as required by our clients. This reduces labor and cost needed for inventory control, ensuring stock space, and disposal of left-over copies printed.
We use printing inks that have less environmental impact and encourage our clients to select vegetable (soy) based inks.
We also encourage our clients to select recycled paper.
Regarding the chemicals used for running and maintaining the printing machines, we are shifting from commonly-used chemicals that are difficult to use safely, toward chemicals with less environmental impact that are easier to use safely after repeated testing. For chemicals subject to PRTR control or those specified by the client, we seek ways to reduce their usage, with the final goal of total elimination.
We recycle metals such as the offset printing plates and empty cans of ink, and also reuse vinyl containers and clean cotton wastes.
5. Separation and Collection of Waste and Recycling
We separate all office waste into seven types in compliance with the Shinagawa-ku regulations on waste collection: bottles, cans, PET bottles, styrofoam, combustible wastes, kitchen scraps, and incombustible waste. Wastes are collected after being separated, and then bottles, cans, PET bottles, and styrofoam are recycled.
Furthermore, printed papers, catalogs, newspapers, magazines, and corrugated cardboard are collected by a specialist disposal contractor as industrial waste and recycled.
Batteries, used telephone cards and prepaid cards, direct mail, and other products are also collected for recycling.